see url Treat your joints with Rosehips and Galactolipids.
Love when you have the choice of swallowing or sprinkling over food.

Non-GMO vegan and vegetarian!  And there's a lot of "No's" to the ingredients; no artificial color, no sugar, no milk, no gluten and more!
For more information visit www.gopo.us.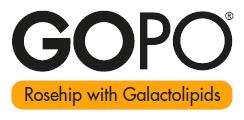 and stay active!