A flavorful high dose of 4,000 milligrams of Vitamin C that's caffeine-free.  Lemon peach thirst quencher.
Recognized for immune support by Riordan Clinic in Wichita, Kansas and many doctors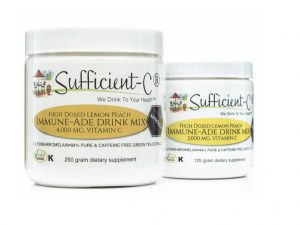 Boosting your immune and verified non-GMO, naturally Vegan, gluten and sugar-free.
Get Sufficient-C® and read more about the product at https://sufficientc.com/

Did I mention low calorie.
More about Sufficient-C®:
It's not easy to consume the higher, effective immune supportive doses, particularly when it comes to vitamin C. With this is mind, Sufficient-C® was created to be a sweet, refreshing, immune boosting drink mix supplement that offers a whopping 4,000 mg. of Vitamin C per serving as well as generous doses of L-lysine, Bromelain and a 94% pure green tea extract in a

 

sugar-free, organic stevia sweet, gluten-free and non-GMO drink mix

 

that is also a perfect thirst quenching go-to drink!  When it comes to immune and inflammation support, there is nothing more empowering or more satisfying than Sufficient-C®.