So love this!  Indulge of Peanut Butter flavor minus the calories and fat.
The best part is being a powdered mix that can easily be a dip or ingredient in just about anything from shakes to baked goods.  
Just stir away, dip away and bake or cook up to your Peanut Butter lovers hearts content!  Delicious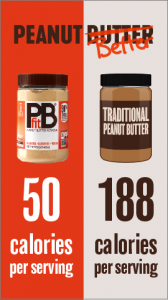 Full Description: 
PBfit
 is a healthy alternative to traditional peanut butter—it's a 
powdered
 peanut butter that you can mix right into your smoothies or recipes. With a dash of organic coconut palm sugar and salt, 
PBfit
 lets you keep the nutrients, along with the peanut butter taste you love, but lets you ditch the fat and calories.
See why parents are turning to PBfit when it comes to this household staple:
90% less fat and ⅓ of the calories

Made from real roasted, pressed peanuts

Combine with water or add to smoothies to get a natural protein boost with great taste

Mix into breads, pancakes or waffles to create a delicious peanut butter flavor
Out and about…try it!
Walmart, Target, Amazon, Sam's Club or online website (below)