It's amazing to think that 100 million Americans can expect to experience the pain and discomfort of sunburn this year. That sun of ours has some powerful rays!
FirstDegree and SunBurnt should be found in everyone's medicine cabinet, since we know that the sun is out even when it looks like it's not!  A quick relief to pain and help for healing damaged skin, is worth that spot on the shelf!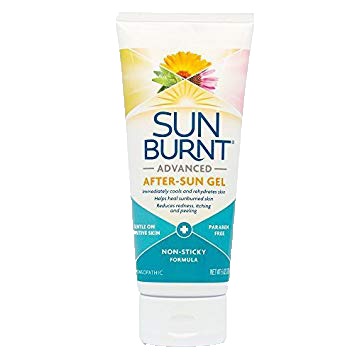 It's not always the sun, here's a small list of the many burns out there; Windburn , Ozone Depletion, Skiing and mountain climbing, Small airplanes (yep!),  Antibiotics,  Acne Medicines, Long distance auto travel, Partly cloudy days and even Snowy days.   Both products are effective for relief of such sunburn symptoms as burning, peeling and the general discomfort of overexposed skin.
You can find these at most pharmacies or food stores (over the counter) and here's a testimonial; "We like to think of SunBurnt as the official sunburn treatment of summer," said Avani Kanubaddi, President and CEO of Welmedix.
You should also know (and they list the ingredients on their website) are the homeopathic official burn creams of summer and back to school.   Its natural homeopathic extracts act safely and effectively to (1) cool overheated skin, (2) soothe and hydrate skin, and (3) reduce the appearance of unsightly redness & peeling for adults and children.