A super seed low calorie energy bar.  Dip it into some desserts- if you can wait that long as these are thankfully amazing where you can't hold onto them! 
Melt in your mouth low calories healthy snack–these should replace candy bars in a heartbeat!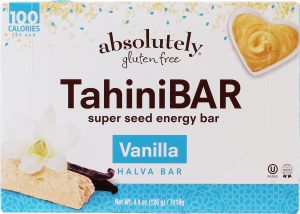 Try Vanilla… no wait, Chocolate!
Okay, okay eat both!
Absolutely Gluten Free, maker of all-natural crackers, flatbreads, and pizza that are both delicious and gluten-free, is taking on the energy bar category with the launch of 

Tahini

BAR, a grab-and-go sesame seed snack that weighs in at only 100 calories. All varieties are certified OU Kosher and dairy-free.